Apple USB C Device Support
iAudioInterface2 now includes a 1m USB-C cable that natively supports iOS devices with USB-C connectors, currently that is 2018 and later iPad Pro, and the latest generation iPad Air. For these devices, just plug the USB-C cable into the Apple device, and then plug the DIN connector into the iAudioInterface2. Note that the USB-C connector must be plugged in before connecting the DIN plug to the iAudioInterface2.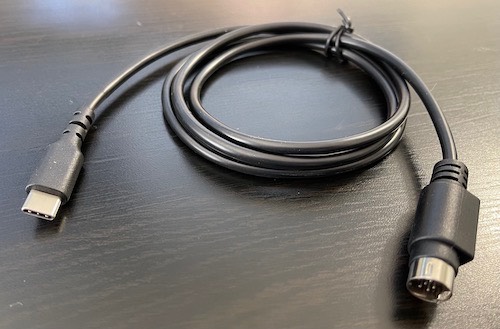 After a few seconds you will get the "Accessory Connected" message, and from there everything works as usual. Turn on phantom power, calibrate, and you are ready to go.
NOTE: iPad charging is not supported through the USB cable, although you can use a USB C powered hub to charge the iPad with the iAudioInterface2 plugged in, or use one of the accessory charging cases such as the Apple folding keyboard case.
This cable does not supply power to the iAudioInterface2 or iPad, but there are cases available that can power the iPad while you are using it, such as the Apple Folio Keyboard case. We have not found any USB-C port splitters that will work, but that may change in the future. We can't say for sure that these will work with future Apple devices, but if they follow their previous patterns we expect they will work.
If you already own an iAudioInterface2 that includes a USB-A cable, all you have to do is order the new cable from our online store.

Other USB-C and USB-A Devices
For devices like laptops, Android phones and tablets, follow the USB Audio instructions.