Please Note: This product is no longer in production, please see our iTestMic2.
Applications
iTestMic works with all of the acoustic testing modules in AudioTools, including the SPL Meters, RTA, FFT, ETC, Impulse Response, and now with Transfer Function, using the internal signal generator.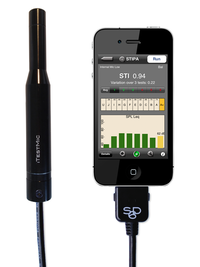 Auto-Calibration
Every unit is calibrated at the factory with a NIST-traceable pressure-compensated SPL calibrator, and the calibration values for both low and high range are stored in the microphone itself, in non-volatile memory. Then, when you plug it into your iOS device, the calibration values are transmitted to the app automatically, giving you an instantly calibrated SPL meter on any iOS device, with no other calibration required.
Getting the Generator Output Signal
Some AudioTools modules require an output signal from the iOS device. It's easy to get this signal on most iOS devices.
First, make or obtain a cable with a 3-conductor 1/8" TRS (not the 4-conductor plug, which is meant for microphone access). Set up the generator in AudioTools for balanced or mono mode, depending on the other end of the cable. If you are going 1/8" to XLR or 1/4" TRS, selected Balanced. If you are going to dual RCA plugs, select MONO.
Then, after you have plugged iTestMic into your iOS device, plug your 1/8" TRS cable into the headset jack. iOS will now route the output signal automatically to the headset jack.
Important: The output cable must be plugged in after iTestMic has been plugged in. iOS will route the output to the last device connected, so the audio would be sent to the iTestMic which does not go anywhere.
Specifications
Omnidirectional pattern
20Hz – 20kHz +/- 3dB
28 dBA – 120 dBA performance in two ranges
NC Limit: Below NC29
1/2″ nominal size, fits all standard calibrators
Consumes less than 50ma in use
0.5m  (19″) cable length (30-pin)
1.0m (37") cable length (Lightning)
Two gain ranges, 28-105 dBA, and 48-120 dBA
Mono signal, present at both Left and Right iOS device input channels
Excellent immunity to cell phone RF noise
Factory calibration stored internally, from a 94.0 dB pressure-compensated calibrator.
Compatibility:
iPhone 5, 5C, 5S (6, 6 Plus, 6S and 6S Plus approval pending)
iPad Mini
iPad Air
iPod Touch 5
Technical Information
The dual-gain range mic preamp, A/D converters, and USB digital audio interface are all contained within the mic itself, so no Apple analog electronics are used. This lets us bypass the heavy filtering and compression that are normally in use, and also to store calibration values that are read by software.
iTestMic is equivalent to having a pro Type 2-class test & measurement mic, low-noise matched preamp with two fixed gain ranges, A/D converter, and USB digital audio interface, all combined in one portable device.
iTestMic meets ANSI / ISO Type 2 specifications for frequency response, linearity, and directional characteristics.  We do not guarantee that this microphone can meet the strict environmental requirements of Type 2 or Type 1.
See our Microphone Type 1 & 2 Certification page for more information about ANSI and ISO specification compatibility.