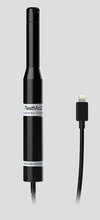 iTestMic2 is a calibrated, accurate, and versatile test & measurment microphone for iOS Lightning. It includes an audio output and a power port that can be used to charge your iPhone or iPad.
Use this special coupon code for an online discount of $20 off the internet price shown for iTestMic2. Get your iTestMic for only $179.99!
TEST20
You can get up to two iTestMic2 for $20 off each, for a limited time only. This offer expires April 10, 2019.

Click for more iTestMic2 information