Please Note: This product is no longer available, it has been replace with the USB-C version of iTestMic2. Here are some of the improvements with this product:
-USB-C for direct connection to iPad and forthcoming iPhones, as well as computers
-This is an MFi product, and as such AudioTools pulls the calibration data from the mic, and allows hi/low range selection
-Lower noise floor
-Flatter response before correction
-Wider dynamic range
-Automatic installation of the calibration file in AudioTools
This model is now shipping, check with your distributor.
Universal Measurement Microphone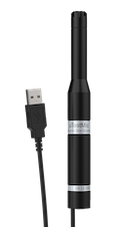 uTestMic is a professional-grade, calibrated, USB-connected test & measurement microphone that includes an audio output.
uTestMic is compatible with any device that supports USB audio, including smart phones, tablets, and computers. It is equipped with a USB A connector, and includes adapters for USB micro and USB C connections. It also works with the Apple USB to Lightning and USB to 30-pin adapters.
Every unit is tested and calibrated at the factory, and a unique individual calibration file is stored in the cloud. To apply this file, if you are using AudioTools, just go to the microphone setup page and tap the "Get File" button and enter the serial number. For other platforms, click this link to open our uTestMic Calibration File tool.
Hardware 

uTestMic is designed to work with hardware devices that support USB audio through the use of
standard USB audio class device drivers.
The blue LED on the bottom lights when a USB audio connection has been established with the host device.
The audio output connector is a standard 1/8" (3.5mm) stereo jack.
uTestMic has a 2m cable with attached USB A connector. It ships with adapters for USB micro and
USB C. To use uTestMic with an iOS device that has a Lightning or 30-pin connector, an adapter
such as the Apple Camera Connection kit is required.
It is possible to extend the USB Cable length using a standard USB A extension cable. Lengths up
to 5m have been tested successfully,
App Compatibility

uTestMic is compatible with AudioTools, and many other iOS Apps which record or process audio.
It is also compatible with audio apps running on any hardware platform that support audio input
from a USB audio device, such as Smart or Spectrafoo on Windows, and any of a number of apps
that run on Android that accept input from a USB audio source. Check with your app developer if
you are unsure as to whether their app will work with a USB audio input device.
Installation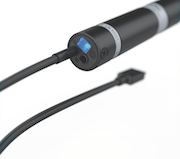 To install uTestMic, plug it into the USB connector of any compatible device. Once uTestMic is
plugged in, it will be active and available as a USB audio source. On mobile platforms, uTestMic
will become the default audio input and output source. On Mac and Windows, you must select
uTestMic as the audio source using the Mac System Preferences pane, or in Windows using Device
Manager
Note that it takes approximately 3 seconds for uTestMic to be recognized by your iOS device. So, if
you plug uTestMic in while AudioTools is running, there will be a slight delay until it can be used.
Calibration
Every uTestMic is factory calibrated and the calibration level and frequency response correction data is stored in a file on our server. To access this file, follow these steps:
AudioTools
Make sure you are running AudioTools 10.22 or later and connected to the internet
Plug in uTestMic
Navigate to the Settings->Microphone Setup page
Tap the i in the circle on the right for the uTestMic entry
Tap the Get File button
Enter the serial number, like LNxxxxx with no spaces
The file will be downloaded and installed
That's it, you just need to do that once per iOS device.
Other Applications
You can download the actual calibration file and use it, just check with your software vendor to see how to load the file. Here's how to get the file:
Use this link to open a new browser window with our calibration file download tool
Enter your serial number, like "LNxxxxx" with no spaces
Click the link to the file that appears to download the file
The file is a plain text file in the industry standard FRD format that includes entries for frequencies and dB correction values. These values are to be subtracted from the mic's output to create a flat response curve.
Gain
uTestMic gain can be controlled from a USB microphone volume command. On iOS, we manage this directly, from AudioTools. On other platforms, you can change the sensitivity (input gain) of the microphone from the OS. For example, on Windows, you can use the Control Panel.
On Mac, use the System Preferences Sound panel, select uTestMic, and change the microphone volume. The setting shown below will work well.
Note that if you calibrate your microphone with a calibrator, the calibration will change if you alter the gain, so first set the gain, then calibrate.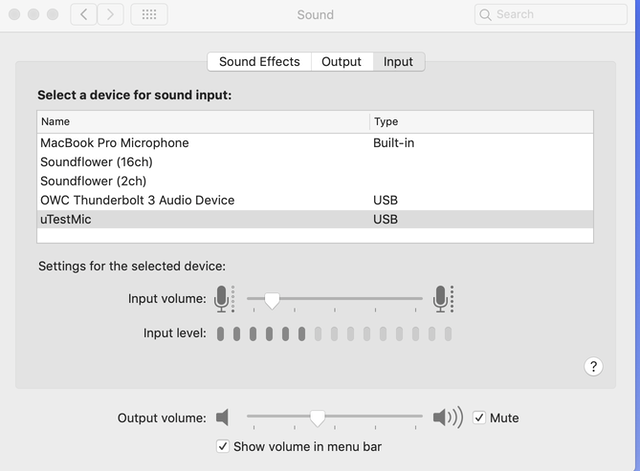 Power

uTestMic is powered over USB, directly from the attached  device. If you wish to also power your mobile device while using uTestMic, you can use any standard USB
powered hub. Just plug uTestMic into the hub, and plug the output cable into your
mobile device.
Audio Output

uTestMic includes an 1/8" (3.5mm) stereo output jack. This will be used as the audio output for all
mobile devices, and can be used on computers by selecting it as the audio output source.
Note that this is a line-output signal, and is not designed to drive headphones.