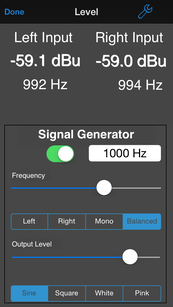 Dual-channel level meter with frequency counters. Best when used with iAudioInterface2, Level Meter can read dBu, dBV, Vrms, Vpp or Vave.
The frequency counter can resolve to 0.1Hz, from 2Hz to 20kHz.
Includes the Signal Generator, with output level control, frequency control, and signal selector.
When used with iAudioInterface2 it has a range of -80.0 dBu to +40.0dBu.
May be used with other audio interfaces, although maintaining input calibration is difficult it the interface has an input level control.