This device works with iPhone 3GS and earlier, and iPod Gen 3 and earlier. If you have a newer Apple iOS device, see the all-new iAudioInterface2.
Studio SIx Digital is now selling our professional-grade audio measurement and recording accessory for the iPod touch. iAudioInterface allows the iPod touch (1st, 2nd, and 3rd generation) to be used for serious audio and acoustics measurements, and can also act as a general-purpose high-quality stereo line in / line out audio interface.
Check Device Compatibility
Sold Out
iAudioInterface is designed to work on iPod touch. See our compatibility page for information about exact models.
Test & Measurement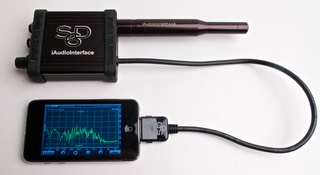 With iAudioInterface and our companion app, AudioTools, you can have these test & measurement capabilities (some modules sold separately as in-app purchases):
Audio Test & Measurement like a calibrated SPL Meter, both analog and digital, an SPL LEQ graph, an RTA, FFT Analysis, Impulse Response, and now available: Smaart Mobile and Transfer Function.
Line Input Tests, including Level & Frequency Measurement, a dual-channel Audio Scope, a VU / Peak Meter, and THD+n Measurement.
Speaker Tests, like Speaker Polarity, Speaker Distortion, an Impedance Meter and an Impedance Sweep.
Utilities include our Generator, Mic Monitor, the ability to transfer files to PC / Mac, an Audio Calculator, and comprehensive Setup & Calibration.
Audio Interface Features
In addition to a great audio test & measurement accessory, with iAudioInterface you also get a professional-grade general-purpose audio interface suitable for recording. Here's what you get:
Full-bandwidth stereo line input that can handle pro levels

High-quality headphone amplifier or a low-distortion stereo line output with +6dBu output

Compatible with any iPhone (except iPhone 4) or iPod touch app that uses stereo inputs or output
More Information
Availability & Pricing
No longer available.
See our product warranty policy.