Now Available: AudioTools 7.3.14 is on the App Store, which includes support for AudioTools Wireless. Includes our new Task Scheduler option. Recommended update!
New! Go Wireless!
AudioTools Wireless is now available! The app functions as a wireless microphone and a remote-controlled generator for AudioTools and other Studio Six Digital apps.
AudioTools Wireless uses the local WiFi network to send uncompressed digital audio and calibration data to AudioTools running on another iOS device.
Connect iTestMic, iAudioInterface2, or any other audio source to an iOS device running AudioTools Wireless, and connect to that mic over WiFi from another iOS device on the same network.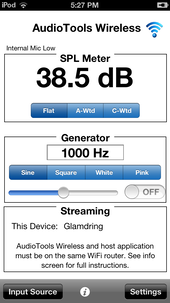 New! Reference Curve option
New! Dropbox Support
Apple supports legacy devices
Older iOS devices, such as iPod 2nd gen and iPhone 3, can only be updated to iOS 4.1. But Apple only lets us build apps for iOS 4.3 and later. This has led to problems finding an installable version of AudioTools.
Now, Apple has provided a way to solve this. If you try to load the current AudioTools onto one of those devices, you will now have the choice of loading the "last compatible version" of AudioTools. This is 4.6, built in August 2012.
Now Available! For users of Smaart 7 on PC or Mac, iRemote for Smaart® 7!
Alesis IO Dock warning: Not compatible with AudioTools.
MicW and IMM6 warning: Do not improve results.
Watch for new Android Apps from Studio Six Digital here.
Wondering if your device is compatible with our products? Check our Compatibility Page.
** NEW: Smaart® Tools now available in AudioTools! ***
** Now Available: STI-PA!