NOTE: Make sure that you are running AudioTools 9.1 or later, as earlier versions cannot restore or validate in-app purchases.
AudioTools uses a system of in-app purchases as the mechanism to add modules to the basic app. This system works well, as Apple keeps track of all of the purchases and they carry forward to new or additional iOS devices that you may purchase later, but some situations can cause confusion and may result in accidental double purchases. This document is meant to try to prevent that occurrence.
Note: In-app purchases are not eligible as part of the Apple Family Sharing program.
In addition, we offer some modules that appear as in-app purchases as standalone apps. These include:
Smaart Spectrum
Transfer Function
SPL Graph
SPL Pro
Impulse Response
STIPA
Dual SPL Traffic Light
These apps, if purchased, will unlock the matching in-app purchase in AudioTools, after the standalone app has been run once.
Important: Buying an in-app purchase will NOT also allow you to also download the standalone app. Apple does not provide for that.
Reinstalling or Moving AudioTools
Sometimes you may have a need to reinstall AudioTools, either because you have wiped your device and are reinstalling all of your apps, or perhaps you have purchased a new iOS device.
Since Apple tracks all of your purchases, including music, videos, books, and apps (including in-app purchases within an app), in most cases all you have to do to get all of your functionality back is:
On your new iOS device, login to the iTunes account that was used to originally purchase AudioTools, in the Settings app, on the iTunes & App Store page.

Download AudioTools from the iTunes App Store.

Go to the Support menu in AudioTools, and run the "Restore Purchases" function.
Note that you must be logged into the same iTunes account that you originally used to buy AudioTools and the in-app purchases, or this won't work.
Apple does not have a limit (at least none that we can identify) on the number of iOS devices that you can install an app on, so feel free to buy new iOS devices, knowing that your software investment will move with you.
You Won't be Charged Twice
Apple tracks App purchases and in-app purchases buy Apple ID, so as long as you are logged into the same Apple ID that you bought an app from, it may look like you will be charged but the App Store will figure it out, sometimes at the last moment, and then say that you already own the app and you will not be charged.
Check Your App Name
Check that you are loading purchases from the same App that you bought them from. For example, SoundTools and AudioTools are different apps, and the in-app purchasers don't migrate between them. If originally had bought a module from AudioTools, make sure you are running AudioTools now when you are doing Restore Purchases.
Standalone Apps and AudioTools
If you bought a standalone app, like Smaart Live, and then bought AudioTools the Smaart Live module will unlock in AudioTools. However, if you move to a new Apple device, you will have to download the standalone app and run it, to also unlock the module in AudioTools.
Third-Party Apps
From time to time we may include third-party apps in the AudioTools app, as a way of consolidating multiple audio apps in one framework. When third-party apps, such as the HAA Home Theater Calibration tools that are on add-on to the HAA course, these will not be unlocked with the All-In purchase option.
Can't Find In-App Purchases
If you are seeing a message when you try to do an in-app purchase, it may be that your iPhone region does not match the country of your App Store. In the case below, a user in Thailand had their region set to the US, but they used the Thai App Store for purchases. Changing the region to the same country as the App Store fixed this issue.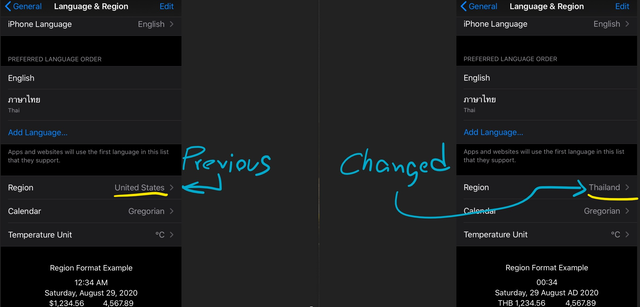 Family Sharing
We now support Family Sharing of in-app purchases! Apple has allowed developers to opt into Family Sharing for in-app purchases, and we have enabled this, so all of your AudioTools modules will also be available for other people on your Familt Sharing program.
What If You Are Double Charged?
In some cases even with your best intentions, you may end up paying twice for an app. If this happens, you will have to contact iTunes Support, to request a refund. They may initially say that it is not possible, but in fact they give refunds often for honest mistakes. Keep insisting, and don't let them send you back to us, there is nothing we can do to refund money as they handle it all.
What To Do If You Are Still Stuck
Here are some things to check:
Make sure you are running the same app that you bought the module from.

Make sure that you are logged into the same iTunes account that you used to make your purchases. Note that Apple does not provide for moving purchases to a new account.

Try to use the "Restore Purchases" function on the Support menu in AudioTools.

If all else fails, email us using the form in the app, or on the website, and explain the problem. Sometimes we will see something that you can do to correct the issue.